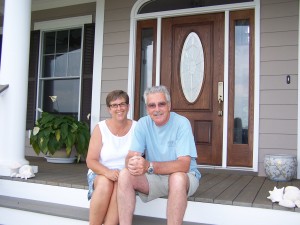 "Jaggers Construction was our first and last choice for building our dream home. We felt comfortable with Kim and Deron from the first time we met them. They truly want to do the job right and were always available to answer our questions and concerns. We would recommend Jaggers Construction to anyone wanting a first-class, hands-on contractor."
--John and Nancy Morris, Lenoir City, TN
We love our house! Even the inspector we hired at close out confided that the quality of construction was the best that he had seen in many years. Subsequent to our home's completion, Deron has performed three additional projects for us (replacing the roof structure on our dock, finishing the basement of our current home, and repairing storm damage to our previous home in preparation for its sale). We are pleased to call the Jaggers our friends.
Steve and Jeanie Cook Loudon, TN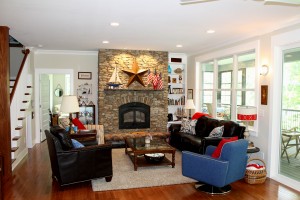 "We are so happy we chose Jaggers Construction to build our family's home. We have been treated not only with professionalism, but also with kindness in every aspect of our building process. There has never been a time when the Jaggers were not readily available to answer any questions we had. Our calls are answered promptly and any issues are resolved expediently. We have given Jaggers contact information to our mortgage lender to share with their clients seeking a builder, so others may have the opportunity to have a happy building experience. We would never hesitate encouraging anyone to work with Jaggers Construction."
Shawn and Charlene Dunsmore, Lenoir City, Tn.
We purchased property in Tennessee a few years ago to build our retirement home. Upon moving to Kingston, we were referred to Jaggers Construction by friends from church who had recently built a new home. After getting to know Deron and Kim and seeing the quality of construction, we were sold. The "cost plus" process that Deron uses is simple and as homeowners you know where every penny is spent. Our building experience was very positive and enjoyable. While there are always unexpected issues that come up, Deron and Kim are there to help you work through them. What really impressed us was the number of unsolicited comments that we received from suppliers, sub-contractors, and even our mortgage provider, regarding the honesty and integrity of Jaggers Construction. That speaks volumes about a builder! We would highly recommend Jaggers Construction to build your custom home.
Kerry and Debbie Courtney Kingston, Tennessee
After 31 years and 20 houses in the military we came to the Jaggers with a self designed house plan, a heavily wooded hillside on the lake, and a big dream. Their draftsman Greg Stiles converted our drawings into a buildable design from which Deron and his superb group of subs helped us make wise and functional choices. Their knowledge, skill and enthusiasm made our dream a reality. We recommend Deron and Kim without any reservations to anyone who is looking for an honest and dependable team to build your new home.
Fran & Mark McDonald Blount County, TN
"I'm writing this letter to personally express my heartfelt appreciation to Deron Jaggers and Jaggers Construction. We're glad we trusted the construction of our dream home to you. My wife and I were impressed that you demonstrated a concern for our budget as if it were your own money. Further, our home was constructed with great attention to detail and quality. The end result is a beautiful, well-built home that exceeds our expectations in every way. We think of Jaggers Construction every time our friends complement our home.".....
Chuck and Shauna Pope Athens, Tn
"We would highly recommend Jaggers Construction to anyone considering building a custom home. Deron and Kim made the homebuilding experience easy for us. They were able to work with us to keep costs down and be flexible enough to include our ideas. We love our new home and are pleased that they have continued to help us even after we have moved in."
Tamera and Tom McDowell , The Woods at Montgomery Cove, Knoxville, Tn.
"Most people only tell you nightmare stories about builders. If I ever build another home, I will use Jaggers Construction again without any reservations. They pay attention to every detail and they truly want to make you happy"......
Craig Mason, The Estates of Wellsley Park
We highly recommend Jaggers Construction for your home building. Deron and Kim were excellent to work with and brought honesty, reliability, and professionalism to the task of building our custom home. Our home is not only beautiful, but energy- efficient, and of very high quality and durability. Deron was always available to answer our questions and was a great source of advice. He would let us know right away if there was the possibility of a problem and worked with us to get issues worked out that cropped up. Their method of accounting really helped us know right where our construction dollars were going. Their building booklet was a good plan to help us make our choices for all of the items needed and in a timely manner. We appreciated their work so much that we had them back to add some rooms to our basement. Deron and Kim have become good friends and built a relationship with us that went much deeper than just a builder-customer interaction.
Tim and Nancy Moore, Walland Tn.
Deron just completed a remodel for our family and we are thrilled with the results! They removed 2 walls, raised a floor, installing lighting, painted, put in hardwood and new stairs. His crew of workers are very professional – we never had to worry about whether or not they were going to show up or whether they'd do a good job. The quality of workmanship and attention to detail was incredible. Deron also made sure we knew where we were in terms of our budget so there were no surprises. All our friends and family are amazed at the results. We will definitely call Deron again when we have another home project and highly recommend Jaggers Construction.
Craig and Lisa Hammer, Knoxville, TN
The home building process is a trying time for the new home owners. Kim and Deron's guidance through the process helps tremendously to ease the burden from the new home owner. We leaned heavily on both Kim and Deron for not only what made sense financially, but also what features in our new home best suited our lifestyle. We were never disappointed in the direction or opinions that we received. Kim and Deron, also provided us with a list of suggested vendors. The contacts at the vendors provided us the same dedication and excellent guidance with the selection of our finishes. After reflecting on the whole process, I don't think we could have ever been more satisfied with the service we received and the quality of a home from another builder than what we received from Jagger's Construction. ...
Paul and Misty Abston, Duff Turner Estates, Lenoir City
We highly recommend Jagger's Construction. We were building our house while living out of state and needed a contractor that would be trustworthy and would communicate clearly. We found these characteristics in Deron and his wife Kim. They spent time with us clearly communicating the construction process and providing us with a detailed step by step plan. Their professionalism, care and concern, quality of construction, gave us complete confidence in choosing Jagger's Construction. We are very pleased with our new home and our relationship with Jagger's Construction.
Raymond and Karen Wilson, The Highland Reserve, Kingston, Tn.
"Deron Jaggers was able to hear and understand my ideas for our addition and turn them into reality, and under budget, at that. Honestly, when we sit in that room enjoying our new "cottage" style space, I have to say it exceeds my expectations! We highly recommend Deron Jaggers and Jaggers Construction!"
Dave and Kay Crouch, Hardin Valley
Based on a friend's recommendation, we recently hired Jaggers Construction for a complete kitchen remodel and several other smaller projects in our home. We were satisfied in every way. They did quality work, offered creative suggestions, paid attention to the smallest of details, kept the work place clean, and delivered a beautiful finished product in a timely manner. We highly recommend them for any home improvement project you may have.
John and Mitzi Platillero, Knoxville, TN